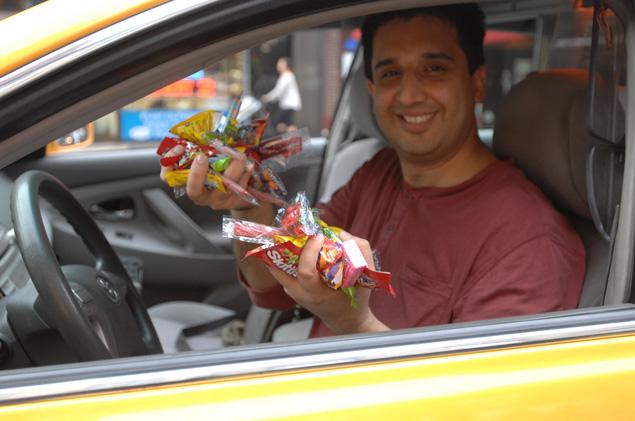 The Candy Cab Gives New York City Passengers a Sweet Ride
Mansoor Khalid, 37, an electrical engineer graduate from Pakistan who's driven a cab since 1996,has turned his taxi into a Willy Wonka factory on wheels by filling his car with boatloads of candy.
The sign in his cab reads, "No eating or drinking inside this car. Except candies." And the back dashboard of his car is brimming with candy and chocolate. "Snickers, Milky Way, Starburst, Skittles, you name it, I have it," Khalid told Yahoo! Shine. To get the party started, passengers can plug their music devices into his $400 subwoofer and blast their tunes while enjoying the cab's elaborate lighting system which flashes blue, purple, and pink rays. To further sweeten the experience, Khalid strikes a deal with his passengers: If they can finish all the candy in the car by the time they arrive at their destination, there's no charge. "No one has accomplished this, although four girls gave it a good try," says Khalid. "However, one got sick so I told her it wasn't worth it."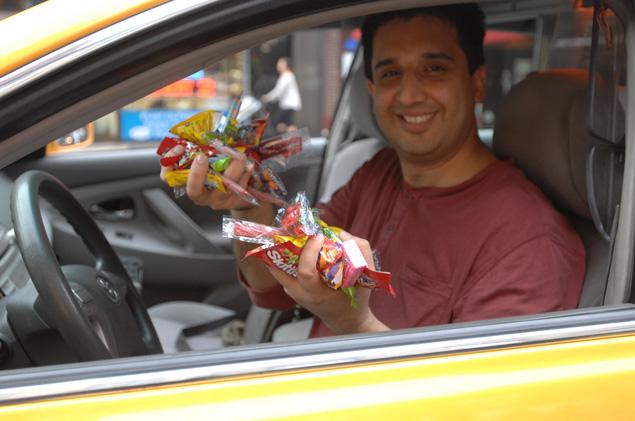 Khalid launched his candy cab in April 2012 after the death of his 18-month-old son Saad who, according to a recent story in the New York Times, was born with a congenital heart defect in 2010. "I used to bring coffee to the nurses at the hospital and they called me 'coffee man.' After my son died, I wanted to feel happy so I put a few candies in my cab. People loved them so I joined Costco to buy in bulk. Cashiers always ask if I'm throwing a party when I go through the checkout line." Khalid's wife, ironically a nutritionist, accompanies him on the trip, where he spends an average of $300 a month on the sweet stuff.
"I enjoy my job more when people feel good," he says. "You come in the cab from a bad day at work and see candy, you're going to smile," says Khalid. "Most people scream, 'Oh my God, what kind of cab is this?' laugh, call their friends, take pictures. It feels good to make people happy. You have no idea how many people need that." And the love is mutual. Khalid has a robust social media presence; On Facebook fans send him videos taken in his cab and write warm messages on his wall. His Twitter account, a platform for taking candy requests, boasts more than 3,000 followers. He also racked up 1,500 fans on Instagram where he posts photos of his passengers. People can also hail his cab through social media by posting the time and location and he doesn't charge an extra fee for the pickup.
"My cab drivers think I'm crazy for spending so much money on candy," he says. "But they don't know what I get in return."